Virtual UIC Architectural Study
(2017 - present) - Author/Lead Developer
Virtual Reality (CAVE2), Unity, C#, Blender, SketchUp, 3ds Max
Overview
A real-time interactive architectural study of the Computer Design Research and Learning Center (CDRLC) a new Computer Science builing to be completed in 2023.
The virtual UIC project started as a College of Engineering funded effort to develop a workflow for importing and enhancing AutoDesk Revit models for real-time interaction in virtual reality. Using the Revit model of the proposed Computing, Design, Research and Learning Center (CDRL) building provided by the architecture firm Lothan Van Hook DeStefano Architecture LLC (LVDA), I imported the models into Blender and modified as necessary to create a real-time interactive walkthrough of the proposed building, stepping through multiple rooms, and integrating text and 2D renderings provided by the architects.
Contribution Summary
Imported, parsed, and cleaned up heavy architecural models in Blender for real-time use in Unity
Created Points of Interests highlighing building features based on architect designs
Imported or created additional models in Blender to fill out environment
Multiple versions of buildings for comparison or evaluation by VIPs
Detailed Contribution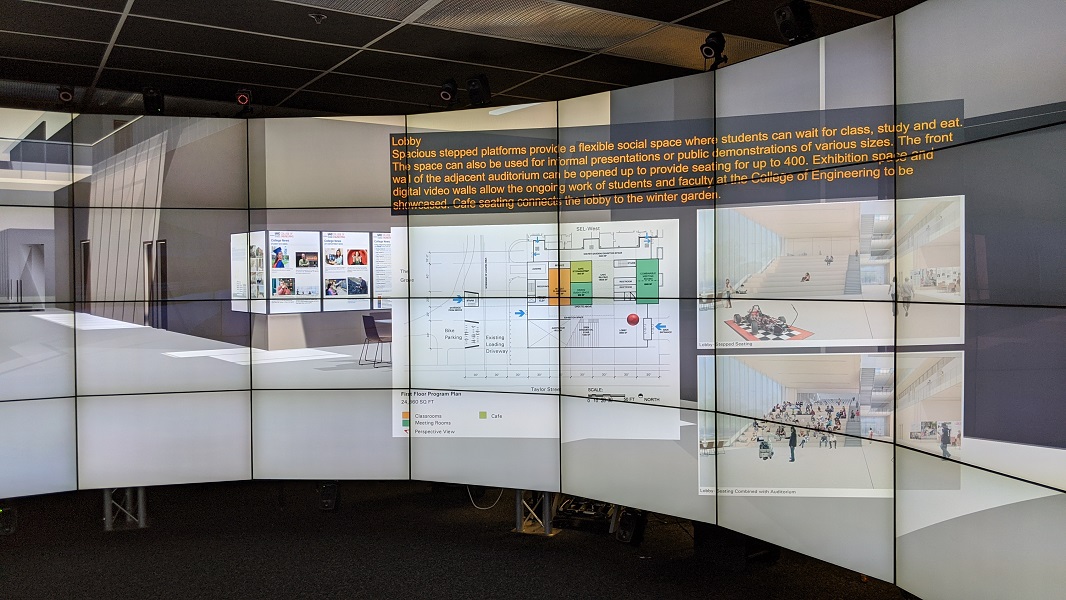 Using the pre-rendered images as a guide, I lit, textured, and set waypoints in the 3D model to highlight specific rooms and other features of the building. Over the course of a semester I worked on this application which has been showcased in the CAVE2™ Hybrid-Reality Environment at the Electronic Visualization Laboratory by several VIP guests of the dean of the College of Engineering including the chancellor of UIC, President of the University of Illinois System, and local and state politicians.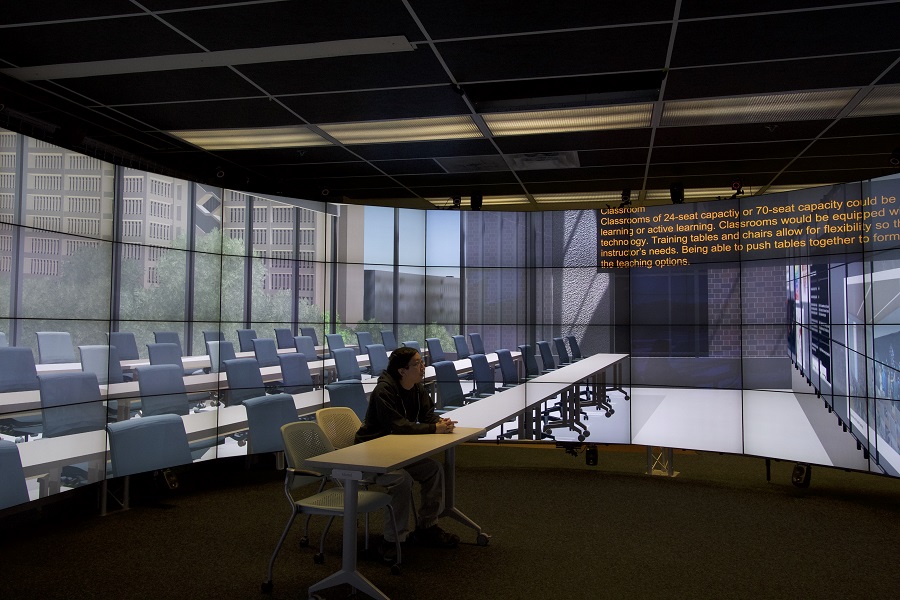 Additional models were added to the application over time to prototype using virtual reality visualization as part of the workflow of UIC Captial Planning. This included a proposed classroom design where architects, administrators, and lecturers were brought into CAVE2 to evaluate the classroom design before the Academic and Residential Complex (ARC) had started construction.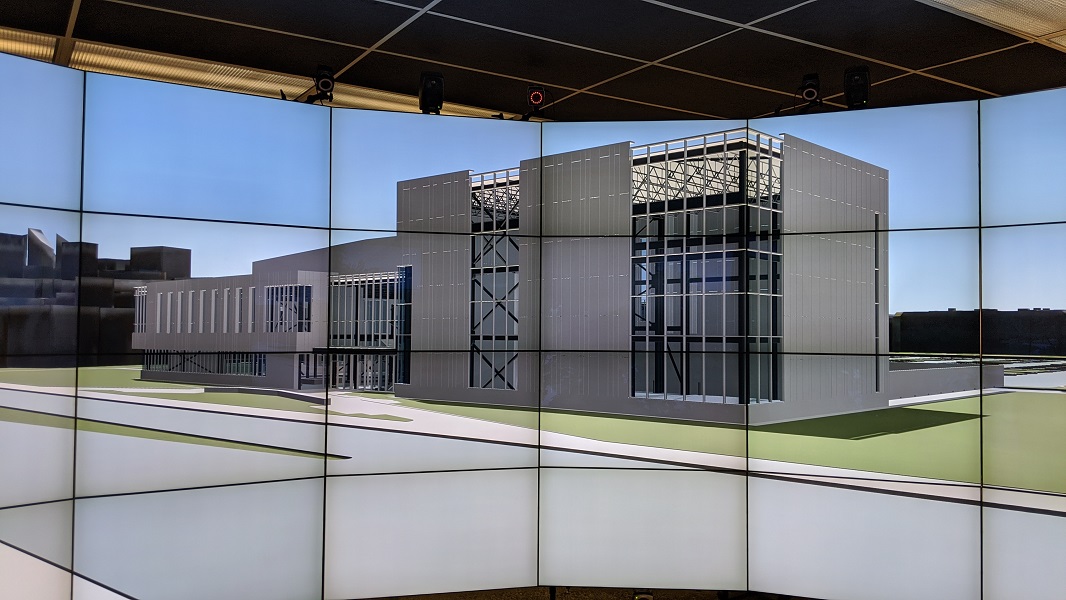 The application also featured the Engineering Innovation Building (EIB) prior to its completion in 2019 as well as an early proposed design of the CS building.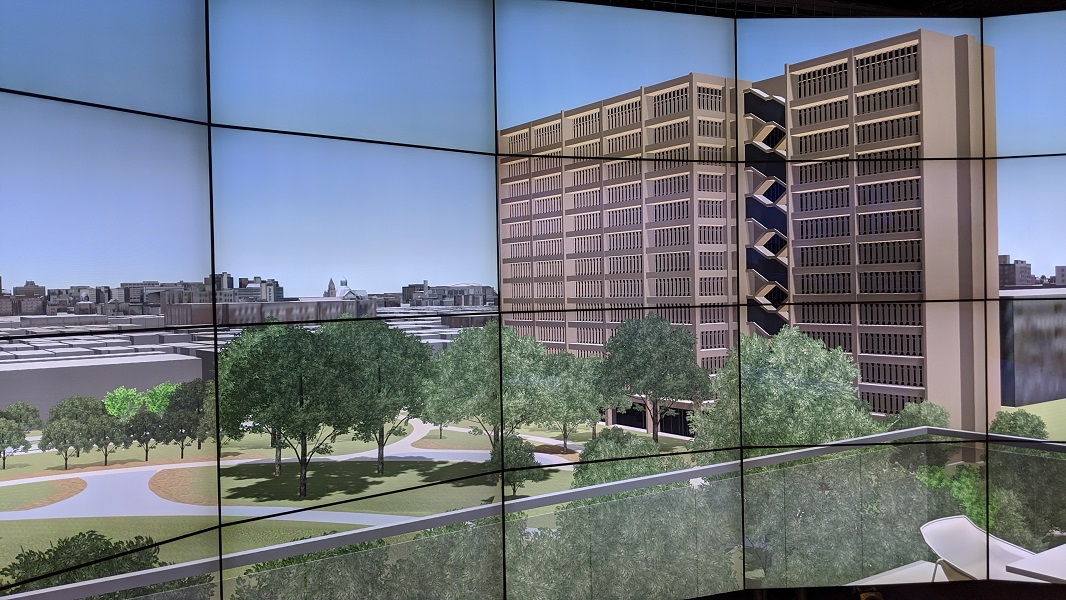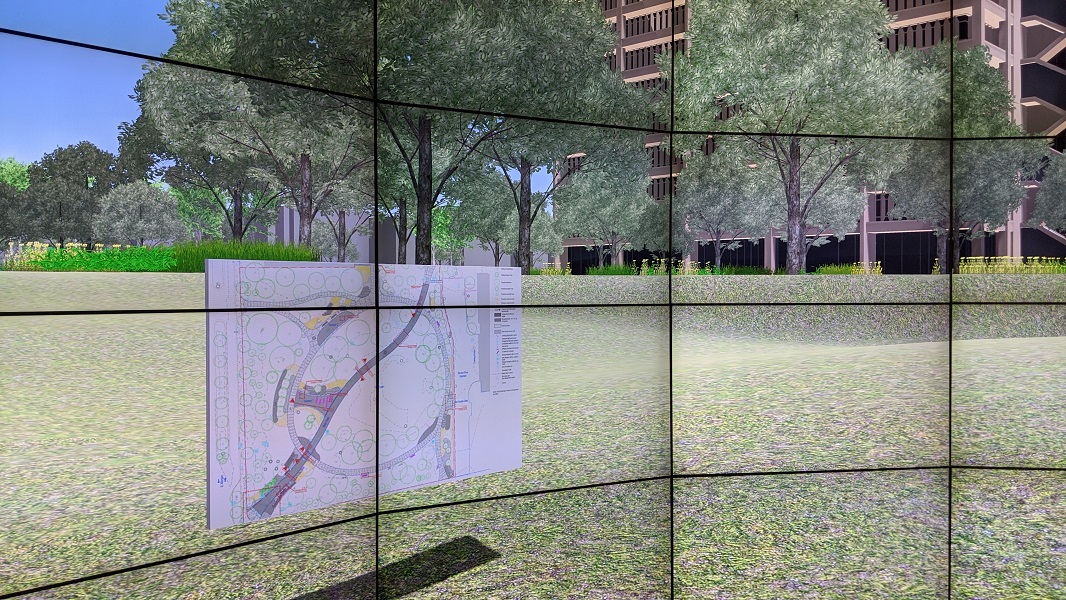 I also created a custom building model of the Science and Engineering Offices (SEO) and Engineering Research Facility (ERF) to fill out campus details around the new CS building for context. These models were based on 2D CAD floorplans as well as manual photos and measurements. I also modeling the SEO Memorial Grove based on the grounds plan.